Over 35 Years ofindustry knowledge
Australia's largestrange of firearms
All the best firearms& accessories brands
Recreational Hunting
– Deer, Duck, Pig
Australia is a vast and varied landscape with many regional differences in licensing and permits.
For example Victoria's Duck season is March -April and Quail is April – May with deer all year. NSW has deer in April.  Northern Territory has a magpie geese season too.
Whilst Qld doesn't have specific hunting seasons like Victoria there are many options for recreational hunting on private land where you are the owner or have gained the express permission of the land-owner to hunt on the land.
In general any species that is  introduced (non-native) is able to be hunted on private land.  This includes wild pigs, wild dogs/dingoes, goats, feral deer, rabbits, foxes and more.
Whatever you plan on hunting Halls-O'Reilly's have you covered  -aside from the appropriate firearm and ammo we stock a range of bows, clothing,  boots, knives, game-callers, range cameras, hides and more.  If your recreational interest lies more in plinking with an air-rifle and a target on your hobby farm we can help you out.
ALWAYS CHECK WITH YOUR LOCAL FIREARMS DEALERS,  LICENCING BODY OR SSAA FOR UP TO DATE INFORMATION REGARDING WHAT YOU CAN HUNT WHERE AND CALIBRE SPECIFICATIONS AND/OR LIMITS.
For all the details on what you can hunt, where and when please refer to the SSAA website https://ssaa.org.au/hunting/what-you-can-hunt/
Rural
– Farmer, Grazier, Pest Control
The Halls-O'Reilly's directors come from the land in Western Queensland and many of our staff have close ties with regional and rural Australia. Primary producers, graziers and land-holders are very important customers and we are committed to providing you with the best advice, products and services. Whether you are controlling pests and threats to your livestock, humanely disposing of sick/injured stock, mustering on a bike or out of a helicopter we understand your needs and have the right tools for you.
Professional
– Macropod/Wildlife Harvesting
Sports
– Competition Shooters
From the local clay pigeon and pistol clubs right through to the Olympic Games  there is  a competitive discipline to suit everyone. For more information on the options – shotguns, pistols, revolvers, rimfire, centrefire, air rifles and black powder visit https://ssaa.org.au/disciplines/.
Of course if you aren't quite at gold medal standard  you may just want be wanting some down time  after a hard week on the property. We sell many manual or automated clay throwers for fun family days.
If you work within the professional security industry we can supply you with many tools of your trade.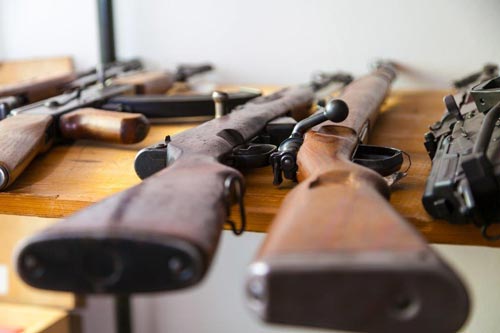 Secondhand/Deceased estates

– Largest Australian dealer
We are one of only a few dealers in the country that have a large turnover of second hand guns and offer 'trade-ins'.  With the Like-For-Like policy in Qld you can trade-in your old firearm for one in the same category without a PTA.
Either visit us in store or click "What's my gun worth' for an estimated value.
Deceased estate enquiries are welcome. Contact us for sensitive handling of firearms and licensing matters when a family member passes away.